Our turbine house is home to our archimedes screws, but it's also more than that; it represents the hard work of our volunteers and investors, as well as being the focal point of our project for the wider community of reading.
Reading Hydro wanted to make sure our site made a positive contribution to the River Thames and Caversham Weir environment. We subsequently ran a mural competition in late 2020 to design and create a new piece of public art, to be situated on the turbine house; and our panel of judges selected from 11 phenomenal submissions the one you see before your eyes…
'The Community Energym'
Artist: Guglielmo Miccolupi, Commando Jugendstil. Date Comissioned: June 2021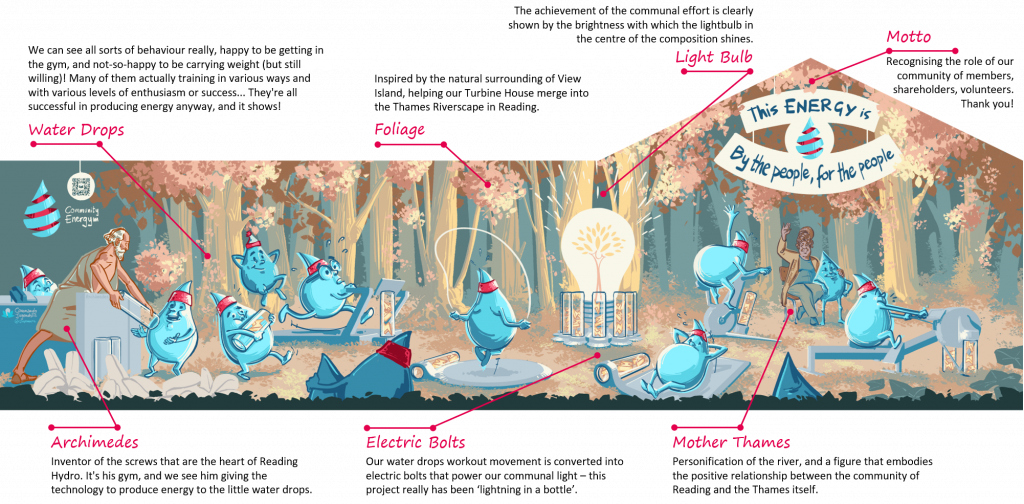 ---
"We wanted to create a visual that could be both playful and engaging, so we played with the concept of water generating energy, and we came up with the idea of drops of water going to the gym, doing sports and using the machines to generate energy. We thought this could be a fun and powerful metaphor to show the interaction between the river and the turbines".

Commando Jugendstil
---
Reading Hydro sees this mural as fun interpretation of our project, highlighting key aspects regarding sustainability, inclusion and community. The high quality presentation and delivery on site also make it a real feature for Reading. We hope that this will be evident to those who visit our site! You can also find out more about the sustainable energy being produced by our turbines here. Find a selection of images that document the progress of the mural below!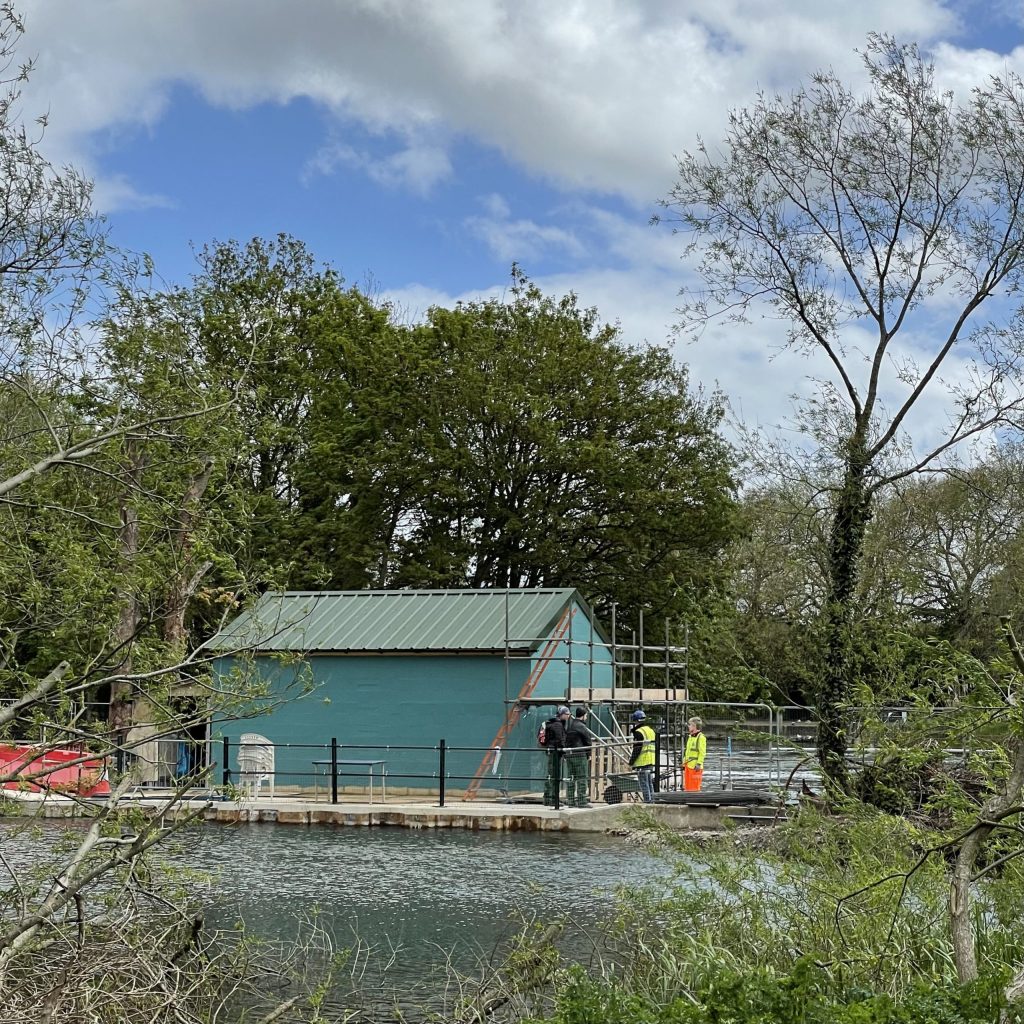 Who are Commando Jugendstil?
Commando Jugendstil are a Solarpunk collective with members both in Italy and in the UK. They do projects in which try to conjugate technology and art with the idea of transforming the city into a sustainable version of itself. Simultaneously, their projects also focus on co-designing solutions with local communities, to stimulate a just transition that can spark from the ground up.
a big Thank you
This mural was created on the walls of the Reading Hydro Turbine House through a heroic combined effort. Our sincere thanks for volunteering both their time and skills to make this happen go to: G, Laura, Ruth, Helen, Belinda, Steve G, Duncan, Jane, Gillian, Anne, Francis, Nigel, Stuart, Steve J, Claire, Katja, Paul, Dave, Chris, Lidia, Alice & Sophie. Thank you so, so much.