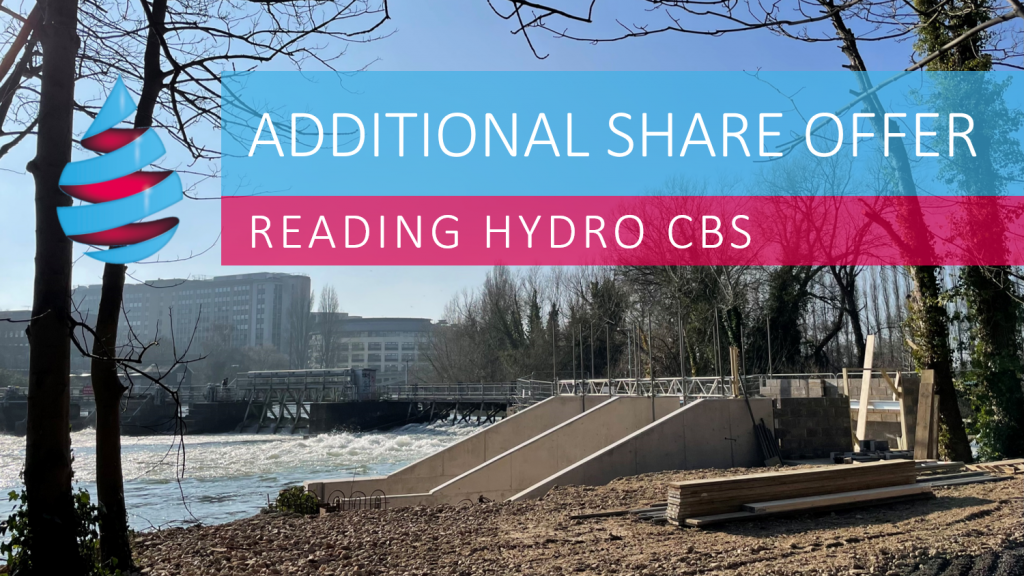 Reading Hydro CBS is opening an additional share offer to help us raise the funds to finish our project
The Board of Directors are pleased to announce significant progress is being made on our site by Caversham Weir, Reading, UK. The main civils construction, carried out by our contractors, Land & Water, has now been successfully completed. The next stages of works include building the Turbine House, the connection cable to the grid, our fish pass and the restoration of the surrounding grounds to their normal state. We've been able to make it this far through the support of our shareholders, stakeholders and volunteers, to who the Board passes on its sincere thanks.
However, the project has suffered some cost overruns – this has been primarily brought on by inclement weather, poor ground conditions and the subsequent flooding. We've also incurred additional costs with our grid connection work and meeting our regulatory requirements. As such, the Board estimates we need to raise an additional £170,000 to be able to complete our work and start generating electricity. This is where we need your help – our Chair, Sophie, explains further in a video below.
we need your support
Reading Hydro has decided to run an additional share offer to obtain the funds needed to finish our work. We therefore invite you to support us by getting involved and buying shares in our Community Benefit Society. By doing so, you can help make green energy from the Thames a reality for Reading. Visit our dedicated Share Offer page, where you will find:
Further details in our Share Offer Document
Our Revised Business Plan
An application form to apply, or a link for online applications
We thank you for your continued support.
The Directors, Reading Hydro CBS
The Share offer will close by 5pm, 9TH APRIL 2021