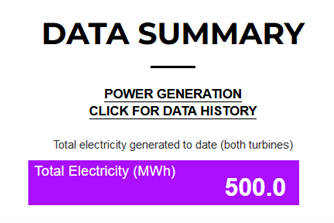 At 8:01 this morning, Reading Hydro had generated 500 megawatt hours (MWh) of hydro electricity! That's enough to:
Drive 2 million miles in an electric car, taking you 80 times round the world (or if you're more adventurous, 4 times to the moon and back!)1 or
Cook 77,000 roast dinners for a family (or about 140,000 if you have a vegetarian roast)2 or
Run all Reading's streetlights for 57 winter nights.3
This renewable electricity has helped tackle climate heating. By cutting the need for gas-fired power generation, it has prevented about 200 tonnes of CO2 from going into the atmosphere.4
Many thanks to all the Reading Hydro investors and volunteers who have helped us reach this milestone, and to Thames Lido the main customer for our electricity.
(nb: one of our turbines may not be operating when you read this, because the river level upstream is close to where we must stop taking water. More rain needed!)