With COP27 scheduled for next month, and nearly a year since COP26 in Glasgow, an extraordinary relay linking Glasgow to Sharm El-Sheik, Egypt, is being undertaken by hundreds of people across Europe and the Middle East. Known as the 'Running Out of Time' (ROoT) relay, the Carbon Copy charity has brought together a community of people and projects to highlight the urgency of the climate change challenge, as well as the efforts being undertaken to try and mitigate the negative effects through positive community action.
This 7,767km relay operating 24/7 for 38 days will be passing through Reading on its journey towards Egypt, and Reading Hydro has been identified as a relay baton exchange point – we therefore invite you to support this unique effort and the teams carrying this baton towards COP27, and help deliver a message to world leaders that we can come together to tackle climate change and make a difference.
Key Info
Come support and cheer on our relay runners as they near the baton exchange point by our Turbine House. We have runners in Stages 143 & 144 of the relay, and are responsible as an organisation for getting the baton to the Turbine House on time!
If you're joining us to support the runners, we will be cheering the team on on the other side of the river to keep the View Island pathway clear for the baton handover:
Date/Time: Friday 7th October, 14:40 – 15:10
Location: Hills Meadow pathway, by the skate ramps & opposite the Turbine House (What3Words: moral.gums.dunes)
Bring your best cheers and clapping with you! Our runners are expected to reach the Turbine House around 14:50
If you'd like to get more involved in the relay, there's a couple of ways you can do this!
Join the stage: ROoT can host up to 25 runners per stage, so if you think you can run 6km in around 45 mins, then sign up and become part of the event!
Donate: You can donate and support our teams via the ROoT website – click on a runner and choose your level of donation
We'll be posting updates of the relay on the day, so make sure you follow us on our social media to keep up with our teams!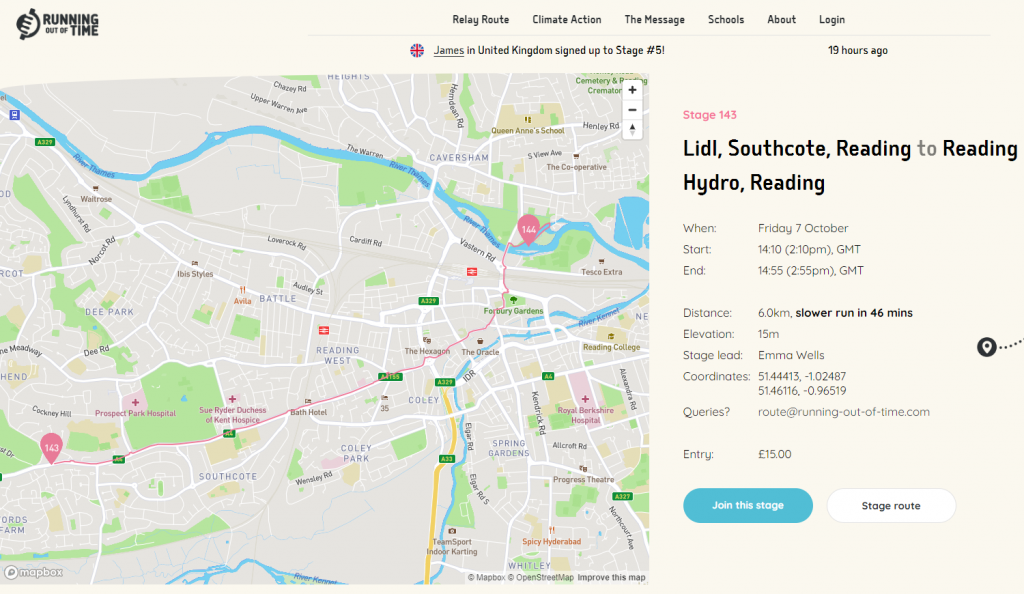 You can also hear more about this relay from Austin, one of our runners, and Rick, Carbon Copy, in their interview with BBC Radio Berkshire.